By Rita Giancola
We need food to sustain life. But food gives us more than just nourishment. Sharing food with family, friends, and even strangers creates memorable, meaningful, and cherished moments. Food warms us. Food satisfies us. Food unites us.
The sweet smell of almond biscotti baking, the savoury aroma of caramelized onions, and the everyday perfume of a brewing morning espresso are everlasting tastes. You do not have to be Italian to love the delicious experience of pasta, whether in a fresh tomato sauce topped with aromatic basil, served in a hearty meat sauce, or in a creamy white carbonara. Are you hungry yet? When you think of your favourite food, do your taste buds salivate? Mine always do. It is euphoric! In our Italian family, sharing a meal is the most important part of the day.
From the moment my mother, an Italian immigrant to Canada, suddenly passed away, I reflected on the meals she prepared and the beautiful memories we shared around the kitchen table. She created meals with real love! I often wonder what her 'Last Supper' was. Did she enjoy it? Would she have chosen it if she knew it would be her last? Now imagine choosing your Last Supper. What would it be?
Death and dying are inevitable. They loom over our everyday existence. Yet we often look at death as taboo. This should not be the case. We must discuss it, embrace it, make plans, and maybe even sing and dance about it while breaking bread.
Most of us are afraid of dying; we are frightened of the unknown, which is natural, as is death. I did not have the chance to say goodbye to my mother or ask if she had any dying wishes. I wish we had shared a 'Last Supper' together before she died. It is important to discuss our final wishes with the ones we love and what better place than at the kitchen table.
The goal of my research is to gain an understanding of how Italian-Canadian immigrants from Molise, compared to Molisani living in Italy, perceive death and dying. You may ask, "But why is she doing this?" My answer to you is that I am eager to gain an understanding of how Molisani perceive death and dying. I am fascinated by the Molisani perspective as both my parents were born and raised in Molise.
A group of healthcare and wellness leaders led by Michael Hebb, are working to break the taboo around conversations about death and dying. They have created a project called "Let's Have Dinner and Talk About Death".
Since January 2022 I have facilitated almost 20 'death dinners' in various Molisani-Italian-Canadian families' homes and in homes of Molisani living in Italy.
Each dinner was  hosted by at least one participant of Molisano heritage. During the meal, questions regarding their personal philosophies on death and dying were discussed with the attending group of family members, as well as the participants' personal end-of-life wishes. The size of each 'death dinner' varied from twelve to three participants. This was definitely the strangest invitation they ever received, but the hosts and guests all experienced a memorable night. (This research has been approved by York University's Ethics Review Board.)
Recruiting participants was challenging. In Canada, I began with immediate family members, followed by my extended family members, and any other Molisani to whom I was referred. I quickly amended my ethics approval to include a Google Form that willing participants could complete if they were not comfortable in gathering to discuss death and dying. The Google Form consisted of similar questions that would be discussed at a 'death dinner'. This was an easier way to recruit participants.
To expand my data base, I reached out to Italian Studies professors across all Canadian universities to see if they could share the Google Form with any of their students who were of Molisano heritage. Most professors responded positively and assured me that they would pass on the information to their students. I also contacted Molisani social clubs throughout Canada, and I was most successful with Club Castropignano in Niagara. They invited me to attend one of their meetings where I recruited a good number of participants.
I began recruiting participants in Italy before I arrived in July of 2022. I wanted to secure some death dinners prior to arriving because of my limited amount of time in Molise. Again I started with family, but that did not go further than explaining my topic. I reached out to professors teaching at the University of Molise, thinking this would be an easy place to find participants, however only one professor responded with a list of a dozen student emails for me to forward the translated Google Form to. I emailed Molisani mayors, photographers, and wineries located in Molise, again with very little feedback. However, I did receive my most memorable response from a winery; "tu non stai bene", translated to "you are not well".
It is obvious to me that the discussion around death and dying in the Molisani community is not welcomed. When I introduce my topic, most people are hesitant, nonetheless they are inclined to complete the survey, maybe because it is less of a commitment, or are simply curious to read the questions, or are truly afraid to have the conversation.
I hope the experience gained by the participants at the 'death dinners' or via the Google form, will encourage discussions about death and dying in Molisani families. I will finalize my collection of participants December 31st, 2022.
The data collected will be used to write a thesis for the Interdisciplinary Studies Master Program at York University, and for the creation of a theatrical production incorporating drama and music. The theatrical production will be a dramatic piece, grounded in facts, that will have the ability to aid discussions of how we want our final days to transpire. Leonardo da Vinci's Last Supper is the inspiration behind the musical and the glue that holds the various inquiries together.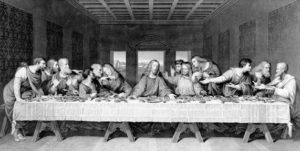 Why a live theatrical performance depicting our end-of-life wishes? We learn and understand people and culture through storytelling. Seeing individuals — actors — portraying characters that embody our fears, regrets, and aspirations allows us to connect emotionally and physically with the performers and audience members. A live performance makes it real, engaging all of our senses.
The Mariano A. Elia Graduate Student Scholarship Award helped me with travel expenses to Molise, Italy. I am most grateful for the committee in supporting my research and believing in the importance of continuing to learn about one's personal heritage.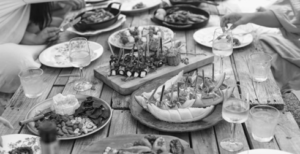 I have the honour of working with a brilliant supervisory committee: the coordinating chair, Professor Mike Cado, a well renowned jazz musician from the Music Department at York University, Professor Erika Batdorf, performer and creator of an endless number of enticing and original productions from the Theatre Department at York University, and Professor Roberta Iannacito-Provenzano, former Associate Dean in the Faculty of Liberal Arts and Professional Studies. My supervisors inspire academic excellence, guiding and encouraging me every step of the way.
My goal is to spark conversations about death and dying, not only within Molisani families, but in all families. I believe that having this conversation when we are well allows us to live more fulfilling lives.