---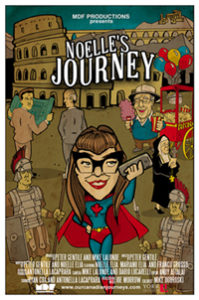 Noelle's Journey a documentary film by award winning director Peter Gentile, MDF Productions, produced in conjunction with The Mariano A. Elia Chair in Italian-Canadian Studies, York University was premiered at a gala opening on 10 June 2017 at the Italian Contemporary Film Festival. The screening at the TIFF Bell Lightbox was the opening event of the Italian-Canadian Film Festival of the ICFF titled "From Bello to Beautiful: The Art and Impact of Italian-Canadian Film."
The film follows Noelle Elia on her voyage to discover the worlds of her grandfather, Mariano Elia, and that of her good friend, Franco Grosso.
Access the interactive timeline tracing the life of Noelle's grandfather, Dr Mariano A. Elia.
---
University of Toronto Press 2015
352 pages / 6 x 9 / 100 illustrations
Cloth 978-1-4426-4849-4
Paper 978-1-4426-2624-9
"Lawrence Grassi has long been an enigmatic and poorly understood character in the story of the Canadian Rocky Mountains. Coal miner, mountain climber, guide, and trail builder, Lawrence's roots have been shrouded in mystery and his exploits the stuff of legend. Who he really was and what he really did has been the subject of speculation for decades. In this book, Elio Costa and Gabriele Scardellato have pulled the curtain back on this mythic figure, revealing a man who is even more complex and enigmatic than previously imagined. Meticulously researched, this book is a wonderful new contribution to the fascinating history of the Bow Valley and a tribute to the millions of pioneers who ventured across the oceans to find their fortune in a harsh and distant land." Chic Scott, author of Pushing the Limits: The Story of Canadian Mountaineering Read More

Cover photograph: Lawrence Grassi climbing the Eisenhower Tower on Castle Mountain, Sydney Vallance photograph, 1930s, courtesy of Glenbow Archives S-20-5.
---
A highly acclaimed documentary film on the experience of Italian-Canadians during World War II. The film was produced by Aysha Productions Inc. in collaboration with The Mariano A. Elia Chair in Italian-Canadian Studies, York University with a grant from Citizenship and Immigration Canada's CHR Program. It was premiered in Toronto in April 2012 at the Royal Ontario Museum.
---
In 2012 Still Ocean Films produced the award winning documentary film titled Saturnia, the name of a ship that carried more than 260,000 Italian immigrants, troops, and others to North America. The story of Italian emigration to Canada in post-WW II period is narrated through the distant memories and vivid recollections of the experiences of passengers who travelled on this ship. The film was written, directed and produced by Ferdinando Dell'Omo and Lilia Topouzova  with The Mariano A. Elia Chair in Italian-Canadian Studies, York University, which provided the producers with an initial research grant.
---
Denis De Klerck & Corrado Paina
Toronto, ON: Mansfield Press, 2006, c. 160pp.
ISBN: 1894469275
An award-winning collection of articles on Toronto's most important post-Word War II Italian immigrant settlement which features a history of the neighbourhood, titled "College Street Little Italy: More than a Century of Toronto Italia" (pp. 79-106), by Professor Gabriele Scardellato.
---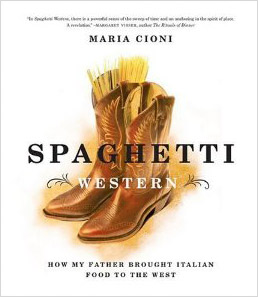 Maria Cioni
Calgary, AB: Fifth House Publishing, 2006, 144pp.
ISBN: 9781897252024
Spaghetti Western is the story of Genesio (Gene) Cioni, his family, community and the food that made him famous during the fabulous fifties when he introduced the West to Italian cooking. Read More
---
Vincenzo Pietropaolo Foreward by Nino Ricci
Toronto, ON: Between the Lines, 2006, 134pp. ISBN: 1897071086
These stunning photographs document the lives of Italian immigrants in Toronto. Award-winning photographer and cultural historian Vincenzo Pietropaolo has spent much of his life photographing inside the Italian-Canadian community. While the images in this book show the fabric of Italian-Canadian life in Toronto, they evoke the lives of immigrants in cities around the world. With a foreword by novelist Nino Ricci, and context provided by the photographer, Not Paved with Gold pays tribute to the immigrant experience. Read More
---
Fortunato Rao
Ethnocultural Voices Series.
Toronto, ON: MHSO & the CIT Press, University of Toronto 2002, 142pp.
ISBN: 0772763089
"This book grew out of several enjoyable afternoons … during which Fortunato Rao and the editors discussed the experience of immigrant workers in Canada. The Mariano A. Elia Chair in Italian-Canadian Studies at York University, which has done so much to encourage research activities and publications in the field of Italian-Canadian studies, helped nurture and develop this book by supplying generous funding. …" [from the editors' "Acknowledgements," p. 7]
---
Franca Iacovetta, Roberto Perin & Angelo Principe, eds.
Toronto, ON. University of Toronto Press, 2000, vii, 432pp. ISBN: 0802044468
"Since current debates on internment generate much emotion but are often woefully uninformed by history, a study of this topic is both timely and valuable. … As historians … we watched with concern the campaign of the Italian Canadian Redress Committee. In our view, its leaders were guided by a simplified version of events. … drawing on selective evidence, ignoring contrary views, and glossing over the fascist history of the Italian immigrant communities — has become the orthodox position. Efforts to revise it [including the current study] have provoked anger or silence." [from the editors' "Introduction"]
---
Franc Sturino
Elia Chair Publication Series No. 1. Toronto, ON: Mariano A. Elia Chair in Italian-Canadian Studies & The Multicultural History Society of Ontario, 1988, iv, 108pp. ISBN: 0919045375
---