By Licia Canton
From my kitchen window, every morning I watched the cardinals fly in and out of the bushes. One bird's brownish-grey plumage was a sharp contrast to the other's bright red, and yet they were always together, in communion. They'd never come to my yard before. Or maybe I hadn't paid attention pre-COVID-19 pandemic. It was a lively scene, one of the positives of being isolated at home.
In some ways, Here & Now is a pandemic project. I would not have edited the volume if COVID-19 had not confined me to my white desk in St. Leonard, on the Island of Montreal. From this spot, I sent emails to contributors, met with potential funders on Zoom, and organized events leading up to the June 2021 publication. It all happened too quickly for me to enjoy the process. Therefore, I did not hesitate when Abril Liberatori, the Mariano A. Elia Chair at York University, invited me to write about the volume. This is my opportunity to reflect on the work completed over the last two years, and to express my appreciation to those who helped make it happen. What I write may not be all that new to some readers; I have spoken about the project on different occasions. I am grateful to many individuals and institutions who have supported the project or facilitated public events. I am especially thankful for funds from the Mariano A. Elia Chair.
I am an active member of the Italian-Canadian cultural community. I am also the parent of a child who identifies as non-binary and uses they/them pronouns. Therefore, I come to this project with the experience of a literary person who is constantly learning about the LGBTQ+ community. The volume Here & Now: An Anthology of Queer Italian-Canadian Writing (2021) is a key component of the Queer and Italian-Canadian project, which acknowledges and celebrates Canadians of Italian origin who are members of the LGBTQ+ community.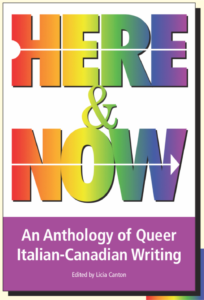 The project began with the documentary film Creative Spaces: Queer and Italian Canadian (2021).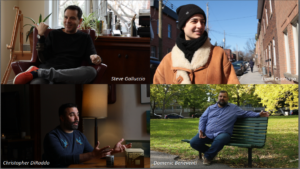 The film was inspired by Monica Meneghetti's Globe and Mail piece "I'm queer and Italian-Canadian – coming out was twice as hard."
A few years ago, I had a conversation with past-presidents of the Association of Italian-Canadian Writers (AICW), namely Maria Cristina Seccia, Delia De Santis and Domenic Beneventi, who heads the Queer Studies in Quebec Research Group, also known as Équipe de recherche en études queer au Québec (ÉRÉQQ). We realized that very little work was being done on queer Italian-Canadian writers. I proposed a video project which evolved into the documentary Creative Spaces, funded by ÉRÉQQ and the AICW. A film would reach a wider audience, particularly different generations and multiple communities. (Watch the trailer here)
We had planned to interview ten LGBTQ-Italian-Canadian writers in different parts of Canada. With COVID-19 restrictions and a deadline to complete the documentary, we[1] were only able to interview three writers: Steve Galluccio of Mambo Italiano (2003) fame, Christopher DiRaddo, author of The Family Way (2021), and Liana Cusmano, author of Catch & Release (2022).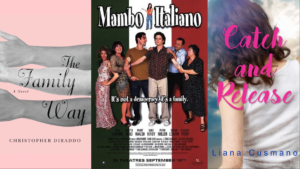 The Here & Now anthology was instigated by the desire to find another way to bring additional voices together. By the time we went to print, we had discovered more than thirty-five LGBTQ-Italian-Canadian writers.[2]
In the months preceding the publication of Here & Now, authors Christopher DiRaddo and Liana Cusmano organized a series of online literary readings (some available on YouTube).[3] Contributors to the volume also participated in a number of roundtable discussions at virtual events and media interviews.[4] To bring attention to the anthology, Liana Cusmano and Anthony Portulese worked on a social media campaign featuring photos of contributors embracing their Italian origins,[5] and Christopher DiRaddo created a website for the project: queeritaliancanadian.com.
To date, Here & Now is the most comprehensive volume of writing by queer Italian-Canadians. The volume features nonfiction, poetry, scripts, fiction, a graphic story and interviews. The contributors are established and prize-winning authors, as well as emerging writers. For some, this is their first publication. Some authors have chosen to use pseudonyms. The volume opens with a three-part introduction by scholars Domenic Beneventi (Université de Sherbrooke), Michela Baldo (University of Birmingham) and Paolo Frascà (University of Toronto). The collection of creative works opens with Monica Meneghetti's personal essay "Biting the Parmesan," an updated version of her piece in The Globe and Mail mentioned above. Writings, from poetry to screenplays, by more than 35 different creators follow. As Baldo states, the writings "are filled with sadness, shame and frustration, but also with tenderness, joy and hope" (Here & Now 31).
While the beginning of Italian-Canadian literature can be traced to the 1970s, few scholars have published on queer Italian-Canadian writing. With the appearance of Here & Now, we have already noticed an increased attention to queer Italian-Canadian literary artists. Queer Italian-Canadian literature is a growing corpus. In fact, the research leading to the publication of Here & Now was essential in discovering new writings and expanding the field of Italian-Canadian literature. Here & Now is a milestone in Canadian literature. It also fills a gap within Italian-Canadian Studies. Some of the contributors are well-known as Canadian writers, but they may not be easily recognized as being of Italian origin.
Paolo Frascà describes the volume as "a celebration of the change and the diversity that our communities have cultivated in this new home. […] Diverse is what we are, here and now: a community of first, second, third, fourth generation migrants who recognize each other as sharing similar histories while upholding one another, as this collection does, in our differences." (Here & Now 38). Indeed, Here & Now celebrates Canadians who live at the intersection of multiple communities. As some of us know, the queer experience is not easily discussed in Italian-Canadian circles. Silence is often the response to LGBTQ+ experiences. The publication of Here & Now helps to break that silence by featuring the children and grandchildren of Italian immigrants. They are creators contributing to Canada's artistic landscape.
This project, however, is not only for literary people, scholars or teachers. What concrete steps can be taken to bring these literary gems to the fore? What can we all do to be more inclusive? How can we encourage others to listen, to speak, to be informed? You can help by sharing this article. This book has already encouraged people in the Italian-Canadian community to look around them, to start a conversation, ask questions, look for information, find answers. Every person who reads this article can help to break the silence that has pained our children and grandchildren.
Being Italian-Canadian means living fully and openly in the present. Yes, it is possible to be Italian Canadian and queer. Yes, the LGBTQ+ community can be in conversation with the Italian-Canadian community. Yes, we can grow as a community and as a society. We have already seen this with the appearance of Here & Now. Read the very touching "Rinasheremo." The author, CJ Volpe, writes: "As a closeted teen, I never imagined I would see my nonna Giuseppina proudly holding a book with the word "queer" on it and smiling. The photo was taken a few months before she passed."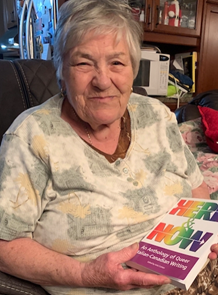 In a Facebook post, Matthew Fox writes: "I'm queer and I'm Italian, and for me the combination burns brightest when I'm with my family. My family had a lot of inherited perceptions to overcome, but it was also the inherited loyalty to and importance of family that reassured me along the way. Never was there a question of my family being on my side or loving me" (@HereNowAnthology, June 20, 2021). Jessica Carpinone is the author of "Homesick" which appears in Here & Now. (You can also read it in Accenti.) She explains that she is "still in the early stages of understanding how these two identities interact": "Growing up, I received subtle and not-so-subtle messages that there was no such thing as a queer Italian-Canadian identity that I could latch onto and be proud of… Finding a community of writers who have lived through similar challenges is a beacon for me. My hope is that our visibility will light the way for others so that these two identities might no longer feel so opposing" (@HereNowAnthology, June 18, 2021).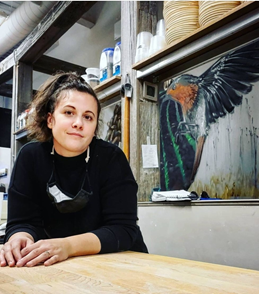 By publishing this book, we have brought very diverse creative people together. Through writing and literature, we have helped to break the silence. How can you help to break the silence? In small or big ways, as you go about your daily lives, you can help to bring LGBTQ-Italian-Canadians to the foreground. How can you help to embrace those whose lived experiences have often gone unnoticed? We can all be more inclusive, less silent. In his introduction to Here & Now, Domenic Beneventi writes that this work "demonstrates in various ways, the bonds of feeling, affect, and desire that cut across the artificial borders of languages, communities, genders, and sexualities. Each of us – writers and readers – are made the richer for lingering, even momentarily, in that threshold space of possibility and mutual recognition" (23).
I cherish Here & Now as the good that has come out of my pandemic experience. Working on the book was inspiring. I am grateful for the human connections: newfound writers and friends as well as exceptional individuals and supportive organizations who have embraced this project. Unfortunately, we were not able to celebrate during an in-person launch of the volume, but that will come. A second volume is being planned because there is still a lot of work to be done, more discussions to be had, more people to include. You can help by letting everyone know about this project.
Here and Now on Facebook and Twitter
Photo Captions:
Here & Now was published by Longbridge Books in June 2021.
Stills from the documentary film Creative Spaces: Queer and Italian Canadian (2021). Clockwise from top left: Steve Galluccio, Liana Cusmano, Domenic Beneventi, Christopher DiRaddo.
Monica Meneghetti's 2018 essay inspired the Queer and Italian Canadian Project.
Works by Italian-Montrealers: DiRaddo's The Family Way (2020), Galluccio's Mambo Italiano (2003), Cusmano's Catch and Release (2022).
C.J. Volpe's Nonna Giuseppina proudly poses with the volume Here & Now. (Courtesy C.J. Volpe.)
Ottawa author Jessica Carpinone in her bakery. (Courtesy J. Carpinone.)
Sources:
[1] With cinematographers Justine Rivard and Béatrice Langlois-Bettez.
[2] Contributors include Elena Basile, Tina Biello, Anthony Bonato, Anna Camilleri, Frank Canino, Jessica Carpinone, Rachele Clemente, Paul Coccia, Liana Cusmano, Amber Dawn, Luis De Filippis, Anthony DeFoe, Vanessa Di Gregorio, Christopher DiRaddo, Nikki Donadio, Matthew Fox, Paolo Frascà, Phoebe Fregoli, Steve Galluccio, Alessandro Giardino, Elio Iannacci, Erica Lenti, Ariana Magliocco, Violet Mayhew, Steff Juniper Mendolia, Monica Meneghetti, Anna Nobile, Anthony Portulese, Jeremy Saunders, Luca Cara Seccafien, Jonathan Settembri, CJ Volpe, Daniel Zomparelli and allies Michelle Alfano, John Calabro and Gianna Patriarca.
[3] Here & Now Readings (April 13, 2021): https://youtu.be/N5NWn8-MxJQ
Here & Now Readings (May 18, 2021): https://youtu.be/DCxXy9NkNPU
Here & Now: Readings and Discussion (June 3, 2021): https://www.youtube.com/watch?v=irNPBV7Z2Gw
Here & Now: Readings and Discussion (June 29, 2021): https://www.youtube.com/watch?v=gJ2EUb8BGmo
[4] The first event was the panel Queer and Italian Canadian at Librissimi Italian Book Fair (May 9, 2020).
Two events were held at the annual conference of the Canadian Association for Italian Studies (CAIS) in June 2021.
See also OMNI News coverage. June 4, 2021: "Here and Now, un'antologia di scrittori italocanadesi queer" (2:49 minutes)
March 2, 2021: "Creative Spaces: la comunità italiana in Canada e quella LGBTQ" https://www.omnitv.ca/on/it/videos/creative-spaces-la-comunita-italiana-in-canada-e-quella-lgbtq/ January 25, 2021: "Creative Spaces: La voce degli scrittori queer italocanadesi"
[5] https://www.facebook.com/CreativeQueerItalianCanadian