By Elio Iannacci
For twenty years I've worked with more than eighty publications as an arts critic and reporter, penning feature stories for newspapers and magazines ranging from The Globe and Mail and Maclean's to The Hollywood Reporter, Flare and FASHION. Much of my creative output at each news outlet focuses on highlighting what I believe to be the most galvanizing female vocalists in pop music history. Over the course of the past two decades, I've amassed an archive of more than 3,000 interviews with iconic vocalists ranging from Aretha Franklin, Amy Winehouse, Eartha Kitt, and Dolly Parton to Barbra Streisand, Beyoncé Knowles, Madonna and Lady Gaga to name only some of the most well known.
During this time, the phenomenon of the Diva in popular culture has taken shape in a rapidly expanding body of scholarship.  Its roots lie in Italian culture of the 1950s and the fandom cultivated by opera and its aficionados, who were obsessed with female performers and the ways in which they ignited their arias with an artistry that went beyond stock characters, stereotypes and archetypes.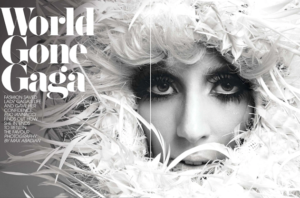 "World Gone Gaga." Cover story written and produced by Elio Iannacci for Flare Magazine's December 2009 issue . Fashion styling by Nichola Formichetti. Photography by Max Abadian. Art Direction by Tanya Watt. Photo of Flare magazine cover story by Elio Iannacci.
While sifting through the many origin stories of the Diva, I discovered that it was Italian opera fans who made it their mission to designate the most famous soprano of the 20th and 21st centuries: Maria Callas. In an effort to express their fervent dedication to Callas, and to equate her remarkable artistic prowess, vocal capacity and magisterial presence to that of a deity, these Italian aficionados nominated her "La Divina."
This new nomenclature, initially reserved for Callas alone, soon moved into wider circulation and those who came after her were also seen as "divine ones," talents whose presence and influence on stage were as close to goddess-like as could be humanly imagined. Nearly eight decades after Callas' first major performance at "La Scala," the crown title of Diva remains an accolade fueled with complexity and contestation.
Drawing on insights of Queer and Gender theory, Critical Race theory, and Ethno-musicology, my MA scholarship in York's Interdisciplinary Programme aims to shed new light on both the liberatory possibilities and problematic implications of our personal and political investments in these Diva-onic cultural figures. Specifically, it argues that Queer-Diva collaborations—while highly visible and far reaching—need to be contextualized as a central practice in Queer activism. Although Queer-Diva co-productions have been touted as iconographic, the collaborative relationships behind them have yet to be organized and adequately acknowledged within history. Queer-Diva spectacles, while consumed on a global scale, have not yet been sufficiently historicized.  My work draws attention to Queer-Diva collaborations as under theorized modes of Queer cultural production and crucial sites for Queer world making. For a prime example of what this looks like, look no further than the prevailing achievements made in 1969's Medea, the critically-acclaimed film by director/poet Pier Paolo Pasolini, which stars the legendary Maria Callas.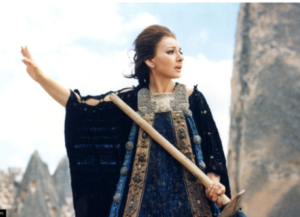 Maria Callas on the set of Pier Paolo Pasolini's 1969 film, Medea. Photo: Courtesy of UNZERO FILMS
Drawing as it does on the fields of Gender Studies, Queer Studies, Italian Studies and African American studies, my thesis examines how leading female vocalists in popular music play a significant role within LGBTQ2IA+ communities via collaboration. By examining the work of several Divas and their chosen pack of Queer artists, DJs and stylists, my research sees specific Diva co-productions of the 80s, 90s, and 2000s as catalysts for change and ciphers of sexual liberation. My work entails mining these Diva bodies of work and analyzing the Queer artistry that lies unacknowledged in popular pop albums which speak to radical self-expression. It also explores the aesthetics connected to these albums, which are presented as transformations connected to major life changes and socio-political shifts.
Variously categorized as saviour, monster, mother figure or mater dolorosa, the Diva is a touchstone in the formation of Queer identities. My research looks into and beyond these categorizations and explores the deep significance of a Diva's partnership with Queer artists. It unveils the monumental effort behind the work of pop music-making and how a globally broadcast Diva performance, music video, or song remix represents a socio-political meeting of the minds for both the Diva and her Queer co-conspirator. It investigates the platforms through which the combined powers of Queer-Diva co-production addresses oppression and liberation and seeks to examine how these works reflect the newfound possibility of Queer life. In taking such an interdisciplinary route to music and Gender, this project highlights the very significant contribution of Italian music and popular culture to contemporary LGBTQ2IA+ audiences and cognoscente.
The Mariano A. Elia Graduate Student Scholarship Award helped fund a crucial research trip to New York City this year so I could unearth the often-forgotten histories of pivotal Queer collaborators in popular music. The Rodgers and Hammerstein Archives of Recorded Sound, The Berg Collection, The Katharine Cornell-Guthrie McClintic Special Collections and The DeWitt Wallace Periodical Room all contained archival information on a group of trailblazing Queer collaborators working with female pop music vocalists in the 1970s-2000s who were, in fact, of Italian descent. This includes a list of highly influential yet often-dismissed groundbreakers ranging from Stylist/Creative Director Nicola Formichetti (Lady Gaga) and DJ/music producer Junior Vasquez (Madonna, Annie Lennox) as well as EDM pioneers who helped create Queer spaces for these collaborations to be heard; aka unsung heroes such as DJ Nicki Siano (Studio 54), DJ David Mancuso (The Loft) and DJ Frances Grasso (The Sanctuary). The next steps in my research involve returning to New York City's Library of The Performing Arts and the Schomberg Center for Research in Black culture to cull together articles and information which trace the history of these often-dismissed and forgotten Queer-Diva collaborations. I will also be mining my own 20-year-plus archive of published interviews which speak to these partnerships. If you are interested in learning more about my work, feel free to follow me on instagram and twitter @elioiannacci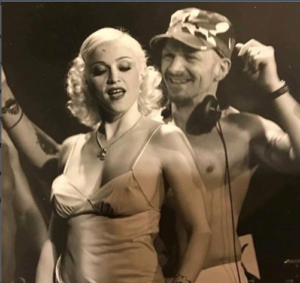 DJ Junior Vasquez and Madonna in 1985 celebrating the premier of the Bedtime Story music video and remixes. Photo: Courtesy of Junior Vasquez.